Fall 2014
Anderson Ranch Arts Center
Terry and I are attending a 10-week residency at the wonderful Anderson Ranch Arts Center in Snowmass Colorado. We are working on a storm-chasing kit with woodcuts and handmade weathervanes. So far there's lots of surprises... unexpected weather and wildlife. Our 10 day list of experiences includes a hail storm, snow, 80 degree temperatures, a blanket of fog, lots of cumulus clouds, a coyote on the golf course and bloody bear prints... plus Chi Chu the dog (he mostly hangs out in ceramics).
Summer 2014
The Wassaic Project
My installation Based on a True Story is part of this year's Wassaic Project and is on view now. The highlight is Wassaic's 3-day arts festival, which is an extravaganza running from August 1st-3rd. Hundreds and hundreds of people travel to the tiny hamlet to take in dance, music, film, food, performance and this year's featured exhibition, Seeing the Sky.
Our piece, which is about storm chasing, tracking weather and chasing clouds is housed at the top of the mill, seven flights up. The installation is jam-packed and includes film, drawing, meteorological ephemera, sound, a lightning tower and a 20-foot hand-carved woodcut. There's even a wind machine and a series of banners that advise viewers to "Know Which Way the Wind Blows" and to "Weather the Storm". The piece took a month to install and was made in collaboration with my partner Terry O'Neill. It is without exception my most ambitious project.
The exhibition runs until September 1st and is open each weekend. Thank you to the Ontario Arts Council for their support via an exhibition assistance grant.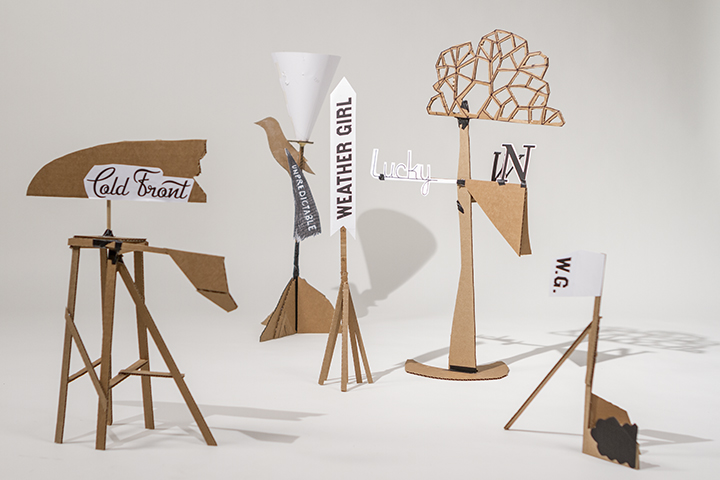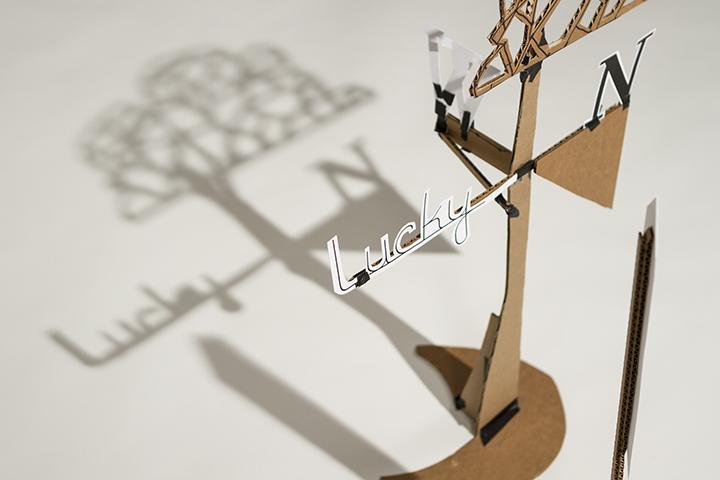 We are building a series of small-scale weather vanes. Here are the cardboard maquettes... next steps, plasma cutter, CNC router, welding and ceramics.
Landfall
We spent an amazing three weeks in July at Landfall in Brigus, Newfoundland, living off the grid in a 200-year-old cottage perched on the ocean. The residency is sponsored by The Rooms and the Landfall Trust.
Here are some of the collages I made during the residency. The plan is to develop these into a compendium called Brigus: Know Which Way the Wind Blows. It will include two sections: The Daily Report and The Historic Event. Brigus has two claims to fame. Captain Bob Bartlett who was an arctic explorer and sea caption in the early 1900's was born and raised in Brigus, and the famous illustrator Rockwell Kent, who lived at Landfall from 1914-1915.