winter 2016 February 27 – March 20, 2016
Contre Vents et Marées AT LOOP ART GALLERY
This exhibition takes cues from Sir Francis Beaufort, the inventor of the Beaufort wind scale. Invented primarily for the Royal Navy in 1807, the 13-point scale remains a standard for estimating the force of winds through visual observations recorded at sea and on land. The exhibition's title Contre Vents et Marées is a meteorological idiom; its English translation against winds and tides is understood in French as the ability to continue despite obstacles. Constructed as a series of floating platforms, the exhibition combines print, ceramics, sculpture and meteorological instruments that tell us how the winds are blowing.
god love brigus at LOOP ART GALLERY
I am showing at Loop Gallery in Toronto from October 10th to November 1st. with Jenn Law. We are having a Q & A with refreshments on Sunday November 1st. Drop by and say hi! Here's the burb: Last summer, Tara Cooper participated in a residency at Landfall Trust in Brigus, Newfoundland. During a 3-week stay, she researched the history of the area and took note of the weather. She watched an iceberg slowly dissolve in the bay, learned about Captain Bob Bartlett, who was an arctic explorer that once brought a polar bear home to Brigus and met Ray, the caretaker of Landfall, who told stories about his grandfather – a whaler that lost his life in an explosion at sea. Made in collaboration with Terry O'Neill, "God Love Brigus" (a comment overheard by the town's librarian) compiles these experiences into a floating raft that mixes sculpture, print, photography and text.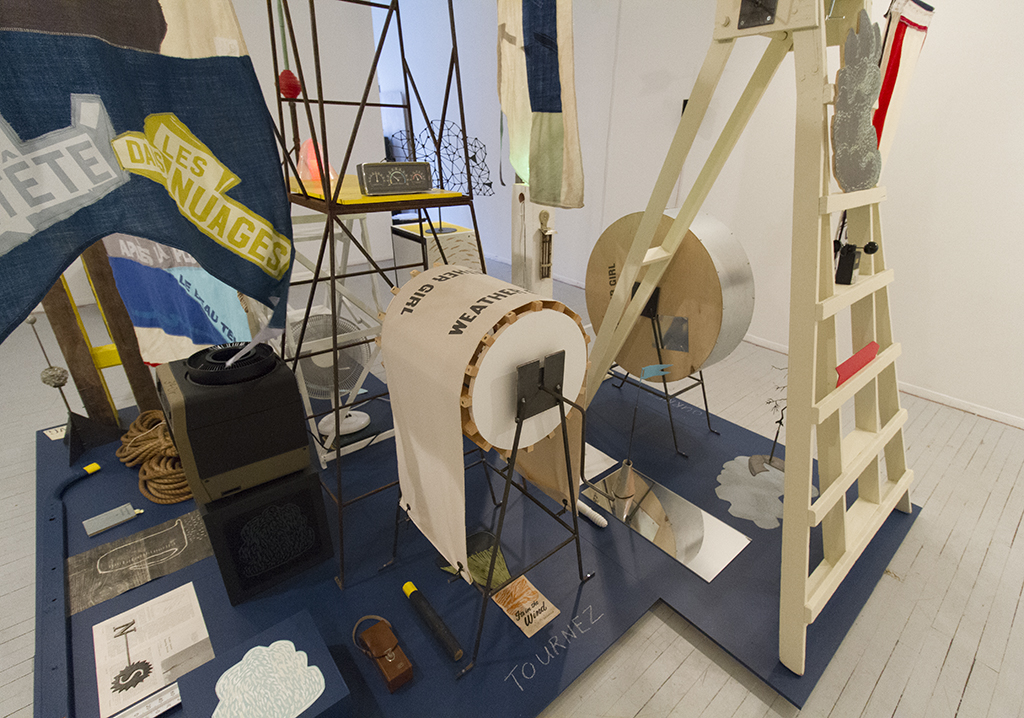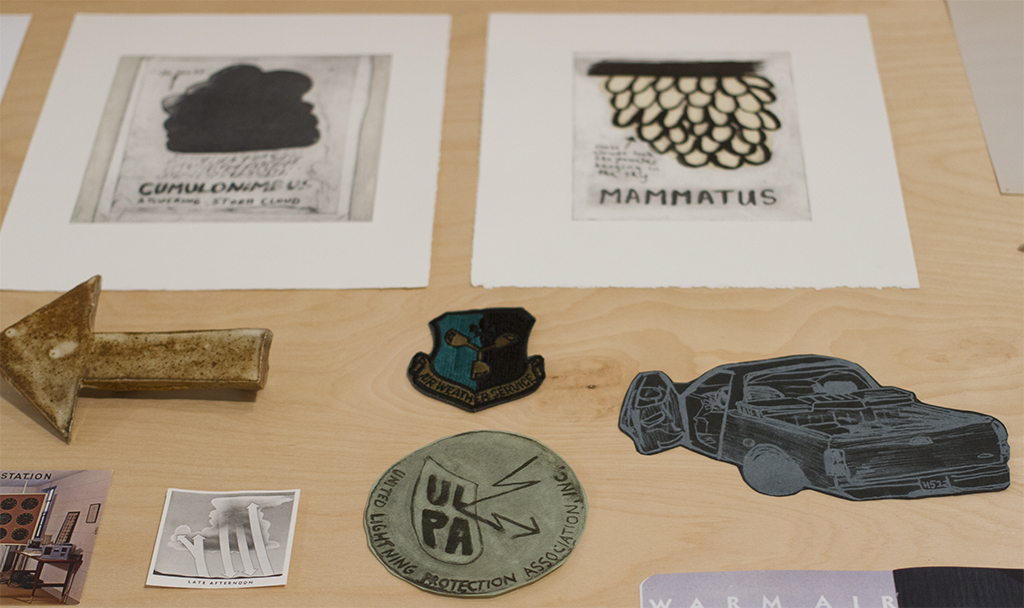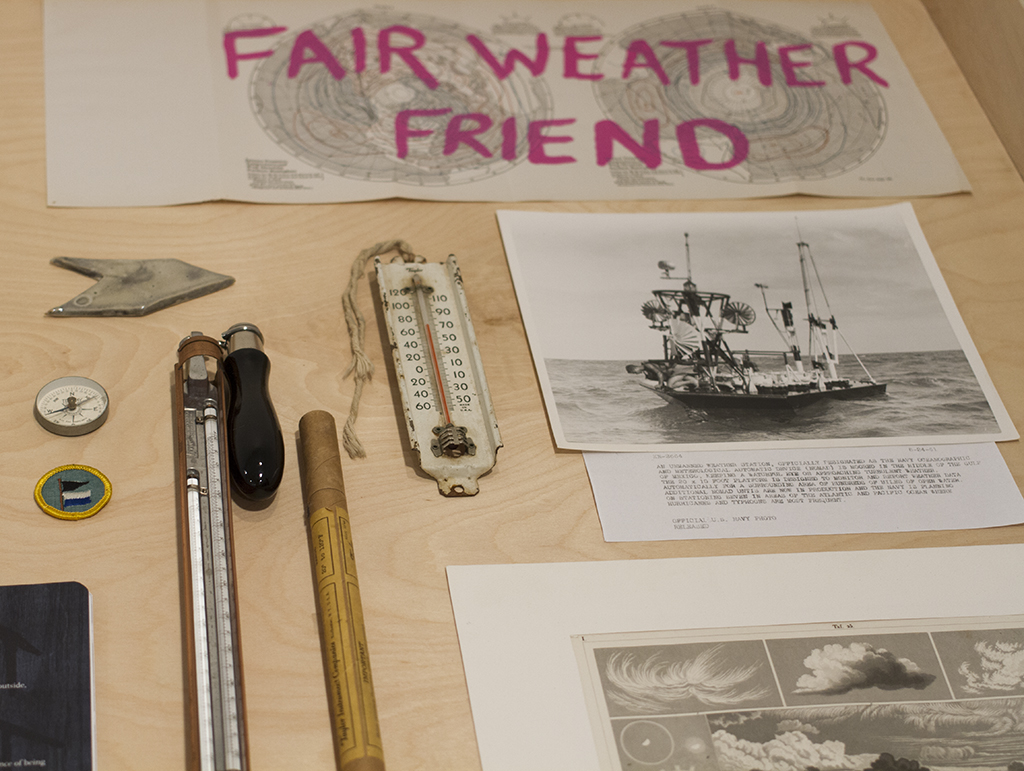 ARPRIM ART GALLERY
Terry and I are busy in the studio working on Based on a True Story Part II – our upcoming show at Arprim Gallery in Montreal. We're incorporating pieces from our residency last fall at Anderson Ranch and sewing new banners with french idioms related to weather. Here are a few work-in-progress shots.
Fall 2014
Anderson Ranch Arts Center
Terry and I are attending a 10-week residency at the wonderful Anderson Ranch Arts Center in Snowmass Colorado. We are working on a storm-chasing kit with woodcuts and handmade weathervanes. So far there's lots of surprises... unexpected weather and wildlife. Our 10 day list of experiences includes a hail storm, snow, 80 degree temperatures, a blanket of fog, lots of cumulus clouds, a coyote on the golf course and bloody bear prints... plus Chi Chu the dog (he mostly hangs out in ceramics).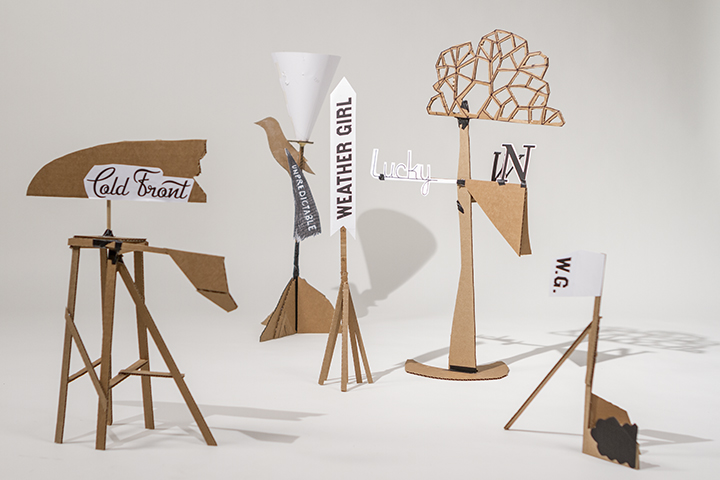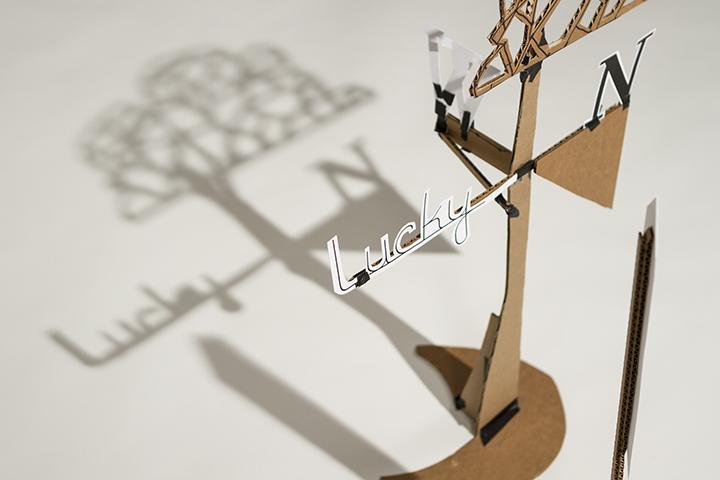 We are building a series of small-scale weather vanes. Here are the cardboard maquettes... next steps, plasma cutter, CNC router, welding and ceramics.